2020 Seattle Baroque Flute Summer Workshop
Janet See, Director
Kathie Stewart, Assistant Director
"What can I say? This is earthly paradise…"
Join us for a week rich in chamber music, master classes, daily sessions in the Alexander Technique, and classes focusing on tone production and technique. Always a highlight of the week, students will be joined by some of Seattle's finest professional musicians (baroque flute, lute, violin, cello, viola da gamba, and harpsichord) who will be coaching and playing in student ensembles. Wednesday afternoon and evening will be free for exploring local sights: the Pike Place Public Market, our local chocolate factory, or boat excursions on Puget Sound.  
"A+++++++. Not enough superlatives to describe my joy and appreciation. This is my 3d time, and every year my experience has improved by leaps and bounds."
"Another fantastic one in the books. The level of playing is definitely going up and I think that the refinements and adjustments are raising the quality bar every year. Thanks to you and Kathie for your passion and generosity–it makes a profound impact not just on our flute playing but on our lives."
"I found this week inspiring. Not just the intense, focused involvement with beautiful music, but also the human side–the shared curiosity, the generous help, and perhaps especially so many people's open pleasure for each other's success."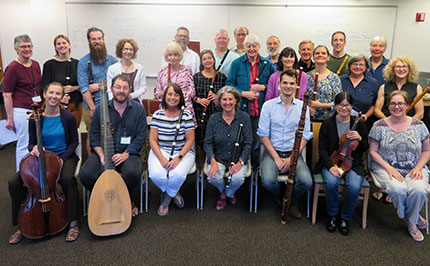 Location
The workshop takes place on the beautiful campus of Seattle Pacific University. Nearby are the colorful Fremont and Queen Anne districts of Seattle, both of which abound in restaurants and coffee shops. Students will be able to prepare meals in residence hall kitchens or purchase meals on campus. Lodging will be in single rooms with private baths. Evening sessions, informal music making, and sharing meals contribute to the richness of the week.
To REGISTER
or for more information
click here